Powerful and smart self-service
BI acceleration platform
Lyftrondata promises to simplify Business Intelligence projects by collaborative data modeling, self-service data preparation, and instant Logical Data Warehousing. Lyftrondata smart architecture allows you to visualize, analyze, and explore the massive volume of data and to instantly retrieve any answers to all business questions.
Make the right decisions faster by using the unrivaled analytics

Self-service business intelligence (BI) is flourishing. As businesses require more flexibility and increased efficiency, relying entirely on IT is no longer a probable solution. In order to manage large amounts of data at a minimal cost, self-service methods are necessary; however, this doesn't come without risk. Scalability and reliability are the key differentiators for business intelligence applications and traditional solutions fail to offer the concurrency and reliability required to meet the modern analytical needs.
Lyftrondata's cutting edge technology provides high availability and concurrency at all scales for modern analytical and business intelligence applications, such as Looker, Tableau, PowerBI, Sisence, PeriscopeData, etc., and can deliver timely results for you. Lyftrondata serves as a data hub and semantic data layer for BI tools. It eliminates the need to manually build data pipelines so that BI users are able to collaboratively build data models that use real-time data or replicate data only on demand.
Eliminate the complexity with Lyftrondata's simplicity
Parallel Auto Data Migration Jobs
Faster Results To Insights
Faster Business Decisions
Drive powerful data-driven decisions with self-serving business intelligence
Customer Insights at Fingertips
Gain deep, actionable insights from your customers and stay on the top of your meaningful data to deliver a hyper-personalized customer experience. Besides, get assurance that the information is always automatically up-to-date.
A Greater Flexibility
A highly flexible solution that scales automatically with the changes in the data without impacting user experience.
Both internal and external data sources can be integrated into your business intelligence queries, and delivers the fastest insights possible.
Fastest Time-to-value
Easily combine data from different sources and achieve actionable insights on big data in the cloud at a massive rate. The whole process, right from the integration to producing actionable insights, happens in less than 4 minutes, promising a time optimization by 75%.
Consume Enterprise Data Instantly and Interactively
Process trillions of rows to make faster and more accurate business decisions. Our revolutionary technology delivers unmatched BI performance and limitless scalability for thousands of users across the enterprise.
Instant Data Availability
The fully automated data pipelines completely replicate your data and provide access to data that once was hidden from analytics. This helps you by saving valuable business hours and enabling powerful data-driven decisions.
Unlimited BI Tools Support
Use any BI tools (like Looker, Tableau, etc) and experience flawless BI performance in a fraction of minutes. Lyftrondata ensures that the right data is accessed and provided at the right time so that you can always have real-time data for your analytical projects.
Embrace data innovation with BI Acceleration
Simply convert your data into a monetization revenue system by enabling your customers, employees, suppliers, providers, and consumers to utilize a secure agile platform for their data transfer. Gone are the days when enterprises shared the data by writing custom API, use FTP process and email for data exchange. Lyftrondata gives any organization the ability to securely share data, and receive shared data, while eliminating the cost and headache of traditional data sharing methods. You can create your own data hub with secure access to live and governed data. You control who provides the data, who can view the data, and who can access the data.
Lyftrondata provides better security and governance of your data to enable enterprises to share with ease. Lyftrondata Sharing Hub acts as an enterprise data security layer where enterprises can control how they want to share their data. Lyftrondata provides an easy and secure way for organizations to become data providers, and therefore, monetize their data to create new revenue streams. In addition, every Lyftrondata customer has access to the Lyftrondata Data Providers, where they can acquire third-party data, combine it with their own data, and gain a level of insight not possible before. Just imagine if all the barriers to sharing and monetizing data disappeared. What new insights and opportunities would emerge that would transform your organization?
Resources for data driven enterprises
START PLANNING YOUR
MODERNIZATION
Want more information about how to solve your biggest data warehousing challenges? Visit our resource center to explore all of our informative and educational ebooks, case studies, white papers, videos and much more.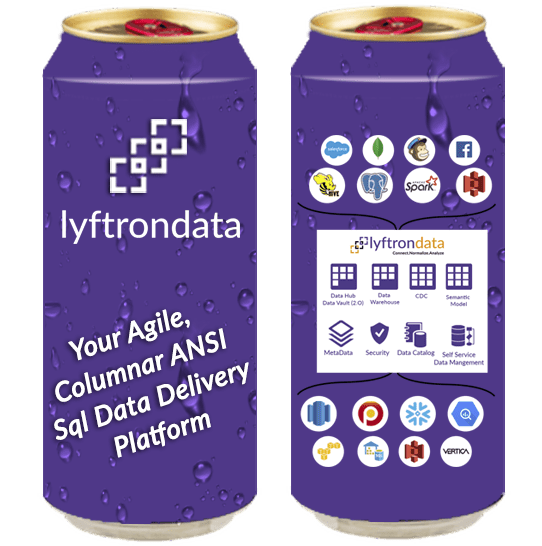 Satisfy your thirst for better data outcomes.
We're here to listen. Tell us about your requirements.
What challenges are you trying to solve?