Build delta lake on
S3, Blob, Google Storage and get continuous intelligence
Adopt a sophisticated way for building your delta lake on S3, Blob and Google Storage, and optimize for cost and performance while running big data analytics, artificial intelligence (AI) and machine learning (ML). Automatically sync your data inside delta Lake where you further transform it with SQL.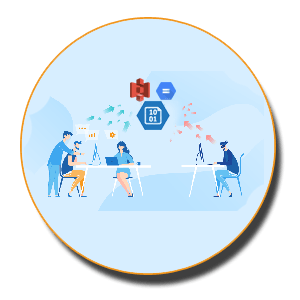 Build high performing delta lake on S3, Blob and Google Storage
Lyftrondata empowers data-driven enterprises build delta lake on the Amazon S3 ecosystem and save thousands of engineering hours and significantly reduce the total cost of ownership. The platform handles all the infrastructure development, empowering users to skip engineering work and go straight to analysis with their favourite BI tool.
Avoid writing lengthy codes, use simple SQL to query any data. Lyftrondata architecture supports automatic zero code JSON/XML/API parsing to relational format and allows users to analyze instantly with ANSI.
Reduce the risk and experience a secured distribution of actionable intelligence. Lyftrondata not only helps you to stay in control of your data, but also empowers business analysts and consumers with modern, AI-powered, self-service analytics capabilities.

Amazon S3

Blob

Google Storage

Apache Spark
Eliminate the complexity with Lyftrondata's simplicity
Faster Results to Insights
Faster Delta Lake Development
Faster Business Decisions
Let's get personal:
See Lyftrondata on your data in a live Demo
Schedule a free, no-strings-attached demo to discover how Lyftrondata can radically simplify data lake ETL in your organization.
Lyftrondata delta lake acts as an anti-corruption layer, allows nested tagging by resource groups, and ensures effective and efficient use of data. Lyftrondata accepts an S3 delta lake as yet another data source that is registered in Lyftrondata. The validated tables from the delta lake are tagged in Lyftrondata which is the portal to the delta lake. All additional views of the source data are defined as views. New data sources are evaluated in Lyftrondata first before being loaded to the S3 delta lake.
Get started in minutes, not months with these agile steps. Zero code & zero setup required.

Extract your data

Auto normalize your data

Analyse your data

Load your data to warehouse

Visualize your data with BI tools

Share your data
Ingest Your Data on S3 in a fraction of minutes
Simply ingest all your data on S3 and be up and moving in minutes. Without any help from developers, Lyftrondata enables you to choose your most valuable data and pulls it from all your connected data sources in just one click.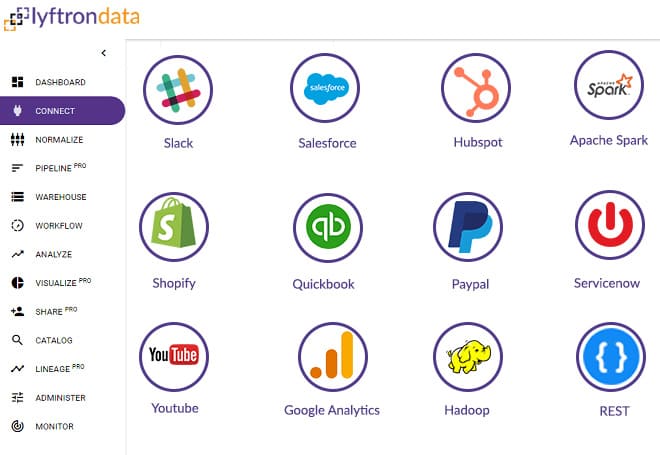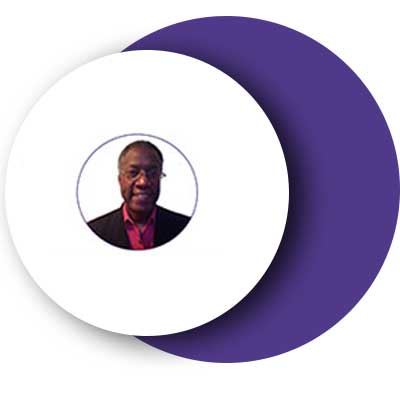 I feel more aligned with the agile process as now I can analyze any data without worrying about any technical know how.
Empower your analytics with out of the box relational data model
Once the data is ingested, you could easily normalize it from any non relational format to relational format. Lyftrondata connectors automatically convert any source data into normalized structure of ANSI Sql and push down the data pipeline processing as an ELT to the native cloud data warehouse.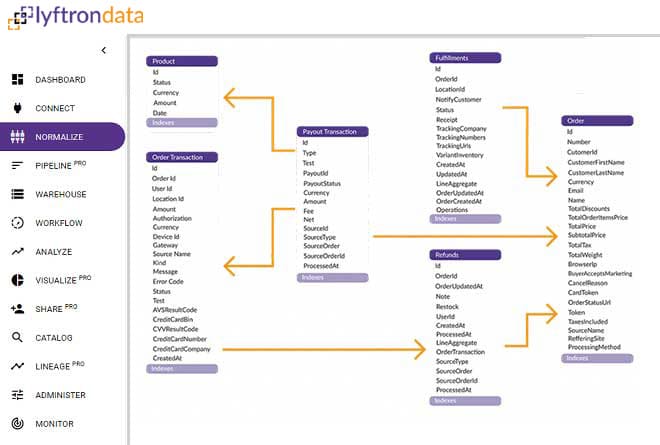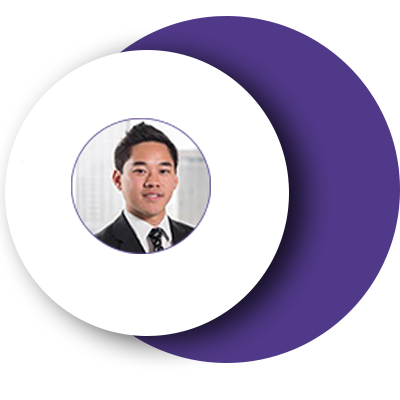 I have a better control on the data analysis process as now I can run rapid fast queries against the API's which I never thought possible.
Built for the agile data culture for your data
Next, query your data from S3, blob and Google Storage directly with Lyftrondata. Analyze massive volumes of this real-time data in visualization tools and get instant answers to your store performance. Over 100 integrations empower you to use your favorite tools to map data, build and visualize custom reports and more.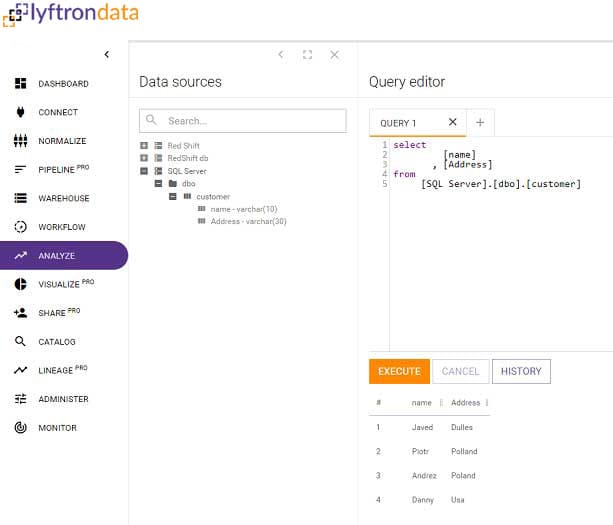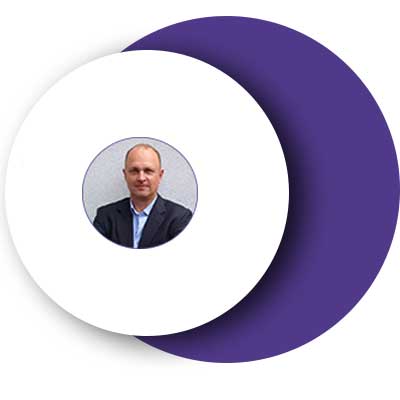 I am able to do the architecture and requirement gathering by simply writing ANSI Sql queries for the API sources which use to be the taboos for me.
Analyze your data from any BI/ML tools
Transform or filter the data using SQL that is pushed down to target. Enable a true Extract-Load- Transform to avoid extra data copies.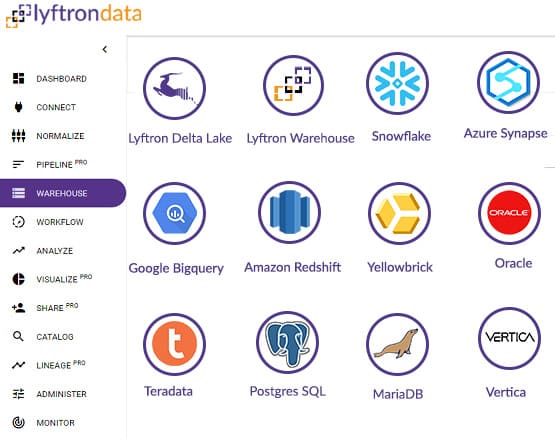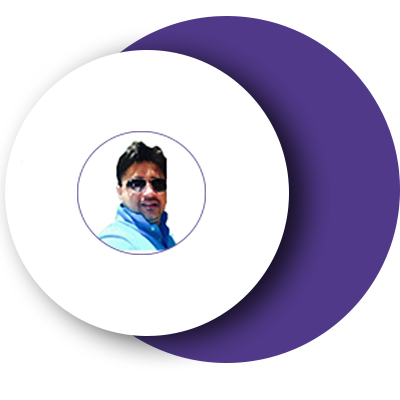 I am able to build my data pipeline in few clicks and load billions of records to my warehouse and also able to do cross platform joins on the API sources with ease.
Analyze your data from any BI/ML tools
Visualize and explore your data metrics in beautifully designed dashboards or any BI tool such as Tableau, Looker, Google Data Studio, Excel, Google spreadsheet. Get insights across products, channels, customers, and more.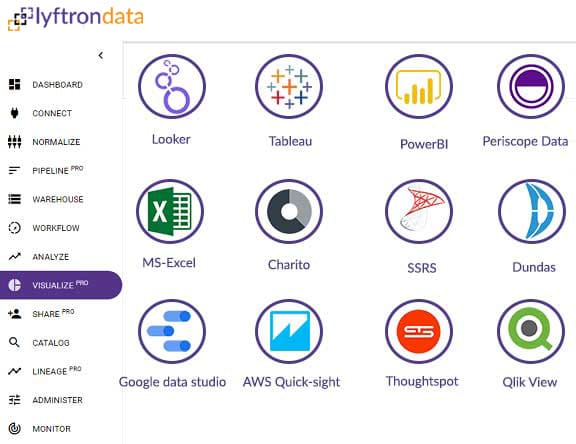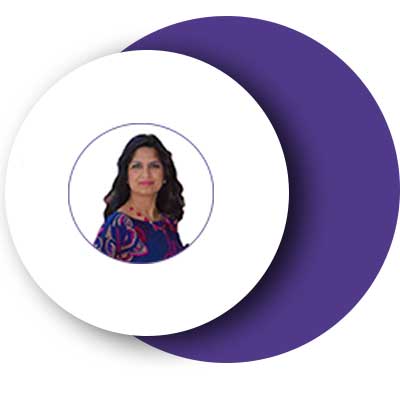 I have a better response from the BI reports and able to connect with API/Json/XML based sources in just fewer clicks.
Data sharing is data caring
Define, categorize and find all data sets in one place. Share these data sets with other experts with zero code and drive better insights and user experience. This data sharing ability is perfect for companies who want to store their data once, share it with other experts and use it multiple times, now and in the future. We build the best data sharing process around your data stack. So say goodbye to the complex API, FTP and Email manual data sharing processes and simple on board your consumers to the Lyftrondata platform in just few minutes mins.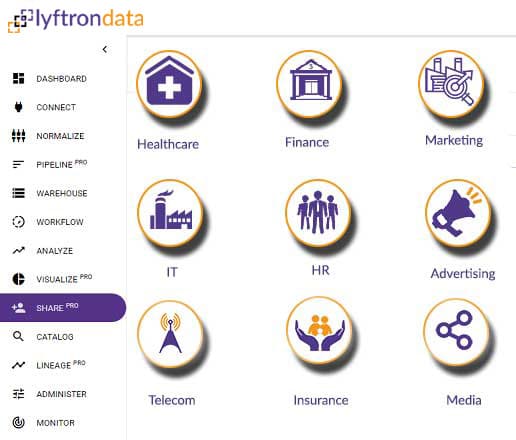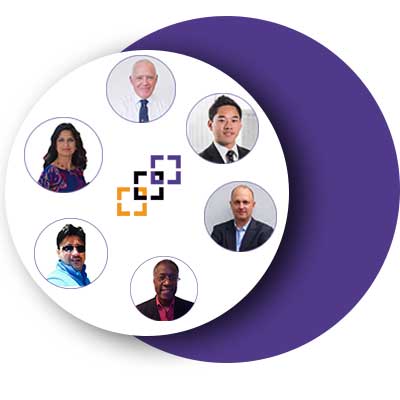 We are in full control of our data exchange process and easily able to share the data instantly and collaborate with teams with ease without worrying about writing complex API, FTP, Email for data sharing.
The secret salt of Lyftrondata's delta lake
Business benefits of Lyftrondata's delta lake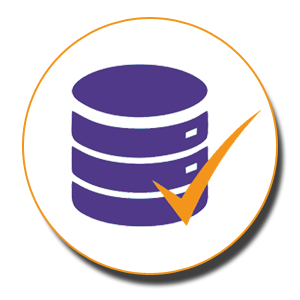 Ensure Data Accuracy
Lyftrondata comes with a built-in enterprise data governance framework complying with all of the necessary rules and tools that your team needs to successfully operationalize your program. Amplify your information governance with a robust data lineage model that follows high-quality controls and governance mechanisms.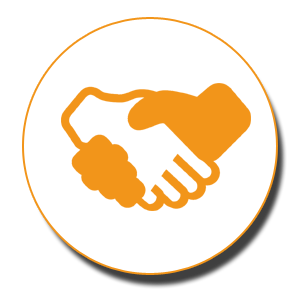 Advanced Collaboration
Rapid changes to data sets are always welcome and easy to manage in Lyftrondata. Designed for full content reuse and sharing, Lyftrondata allows for easy propagation of changes that take place among different users and systems.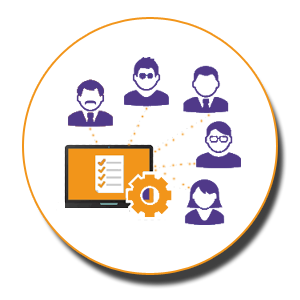 Self-service data sharing
This allows different users to access data from different regions in a data hub. With Lyftrondata's robust and secure data sharing you can enable governance on your data hub and easily maintain one to one, one to many and many to many relationships with your customers & partners.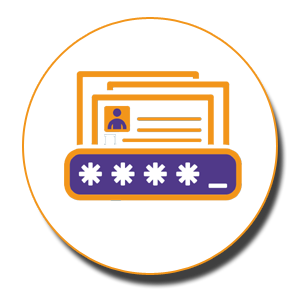 Data protection
The governance framework of Lyftrondata validates and enhances the quality of data and is designed to protect the data from misuse. These capabilities ensure data is up to date, accessible, and eventually removed at appropriate points in its lifecycle.
Data accessibility and rights
With a centralized data governance model, control who can access what data. Secure your data to prevent users from seeing forbidden information. Lyftrondata gives analysts all the data discovery functionality they want, and IT administrators the governance they need.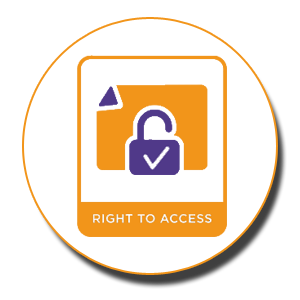 START PLANNING YOUR
MODERNIZATION
Want more information about how to solve your biggest data warehousing challenges? Visit our resource center to explore all of our informative and educational ebooks, case studies, white papers, videos and much more.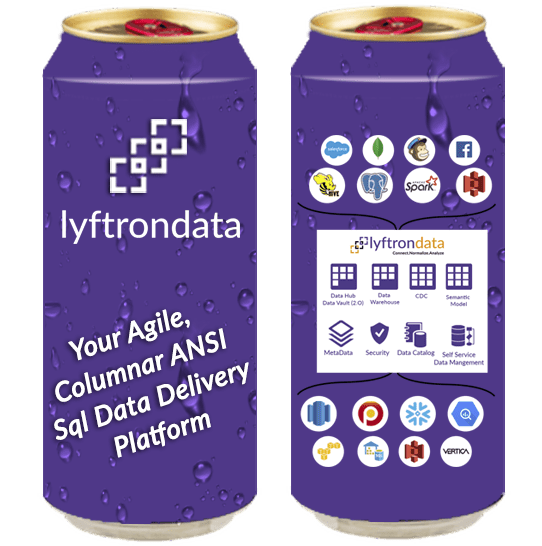 Satisfy your thirst for better data outcomes.
We're here to listen. Tell us about your requirements.
What challenges are you trying to solve?