BUILD AZURE SYNAPSE
DATA WAREHOUSE SECURELY AND SWIFTLY
Leverage the full potential of the next-gen cloud data warehouse, Azure Synapse, with the industry's leading data solution Lyftrondata. Get a managed and cost-effective solution with columnar data storage, massively parallel processing (MPP), efficient integration, and actionable insights.
Load your data into Azure Synapse instantly
Lyftrondata Pipeline manages connections to data sources and loads data to Azure Synapse Data Warehouse. All transformations are defined in standard Synapse and pushed down to data sources and Azure Synapse Data Warehouse. Lyftrondata eliminates traditional ETL/ELT bottlenecks with automatic data pipeline and make data instantly accessible to BI user with the modern cloud compute of Spark & Snowflake.
Lyftrondata connectors automatically convert any source into normalized, ready-to-query relational format and provide search capability on your enterprise data catalog. Lyftrondata shortens data preparation activities by letting data teams create logical data sets first, evaluate the data and delay the data loading until the data sets are verified or data loading is required.
Eliminate the complexity with Lyftrondata's data warehouse simplicity
Parallel Auto Data Warehouse
Faster Results To Insights
Faster business decisions
Why to choose Lyftrondata for Azure Synapse
Data Extraction

API Normalization

Data Analysis

Data Replicate

Delta Lake

Data Sharing
Integrate your data with Lyftrondata instantly and blend with 150+ other sources
Data extraction with Lyftrondata is easy. Be up and moving in minutes. Without any help from developers, Lyftrondata enables you to choose your most valuable data and pulls it from all your connected data sources in just one click.
Business Analyst
"I feel more aligned with the agile process as now I can analyze any data without worrying about any technical know how. "
Empower your analytics with out-of-the-box relational data model
Connect any API, Json, XML and automatically analyze it with ANSI Synapse and load it to Azure Synapse. Once the data is extracted, you could ingest it to the Azure Synapse or BI tool of your choice with zero coding required.
Data Analyst
"I have a better control on the data analysis process as now I can run rapid fast queries against the API's which I never thought possible."
Built for the agile data culture for your data
Next, analyze massive volumes of this real-time data and get instant answers to your questions. Over 100 integrations empower you to use your favorite tools to map data, build and visualize custom reports and more.
Data Architect
" I am able to do the architecture and requirement gathering by simply writing ANSI Sql queries for the API sources which use to be the taboos for me."
Load your data into your warehouse or lake instantly
Transform your growth metrics by combining your data and your delta automatically. Joining tables, renaming metrics and mathematical calculations result in a deeper and more complex data structure than the raw data.
ETL Developer
" I am able to build my data pipeline in few clicks and load billions of records to my warehouse and also able to do cross platform joins on the API sources with ease."
Load your data into your warehouse or lake instantly
Build delta lake on the Azure Synapse and save thousands of engineering hours and significantly reduce the total cost of ownership. The platform handles all the infrastructure development, empowering users to skip engineering work and go straight to analysis.
BI Analyst
" I have a better response from the BI reports and able to connect with API/Json/XML based sources in just fewer clicks. "
Data sharing is data caring
Define, categorize, and find all data sets in one place. Share these data sets with other experts through APIs and drive better insights and user experience. This data sharing ability is perfect for companies who want to store their data once, share it with other experts, and use it multiple times, now and in the future.
Our Agile Team
" We are in full control of our data exchange process and easily able to share the data instantly and collaborate with teams with ease without worrying about writing complex API, FTP, Email for data sharing. "
Complex data parsing capabilities
Complex Data Parsing capabilities are built into the tool – Access and parse complex data types including Web logs, JSON and XML files.
Codeless development
Allows users to Integrate all types of data without writing any code through a codeless development environment increasing developer productivity.
High-speed performance
High speed performance – the technology does not work on data row by row like traditional ETL products, but does so in set and bulk operations.
Lower infrastructure costs
Control the existing power of DBMS hardware engines, rather than depending on external staging servers & scale with ease.
Prebuilt transformation templates
Use default templates for common transformations like Star Schema and integration techniques eliminating time spent on tedious tasks.
Comprehensive analytics
Access advanced reports for better insights on your Azure Synapse Database Warehouse data. Get insights across products, channels, customer lifetime value, and more.
Business intelligence at your fingertips
Connect any BI tool using build-in Synapse Server drivers through a fully simulated Synapse Server protocol. Bridge a connection from SaaS BI tools to on-premise data and the on-premise Enterprise Data Warehouse.
Performance and effectiveness
Experience high-speed performance, as Lyftrondata architecture does not process the data row by row, like traditional ETL products, but performs set and bulk operations in a single go.
Secured access
Maintain protected and resiliency against constant cyber threats through our secured Lyftrondata architecture.
How to get started with Lyftrondata team?
START PLANNING YOUR
MODERNIZATION
Want more information about how to solve your biggest data warehousing challenges? Visit our resource center to explore all of our informative and educational ebooks, case studies, white papers, videos and much more.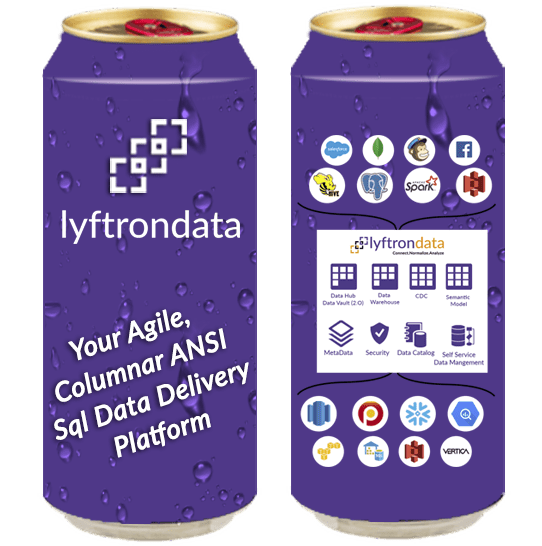 Satisfy your thirst for better data outcomes.
We're here to listen. Tell us about your requirements.
What challenges are you trying to solve?