Zendesk

Integration with any data warehouse and BI tools in minutes without any coding.
Finding the right Zendesk connector for integrating with all the available warehouse data could be a hard task to enforce, but with Lyftrondata it's a cakewalk for you.

Zendesk integration in
three simple steps
Connect your Zendesk account to any data warehouse of your choice with a few clicks and monitor your real-time data streaming. Enjoy a trouble-free, low-maintenance data load. Lyftrondata ETL helps you with Zendesk integration into the platforms you trust, so you can make data-driven decisions that drive revenue and growth.
Lyftrondata's connectors automatically load your data into the data warehouse and empower you to analyze it instantly in the BI tool of your choice.
All transformations are defined in standard SQL, which are pushed down to the target data warehouse in their ANSI SQL for better performance.
No code, low code, & pro code Zendesk Migration
Lyftrondata enables you to instantly connect your Zendesk account in fewer clicks without any coding to your desired data warehouse and BI tools. Lyftrondata Zendesk integration offers you seamless automatic data management.
Why choose Lyftrondata and Zendesk Integration?
200X faster Zendesk Integration
Make smarter decisions and grow your sales with Lyftrondata Zendesk integration
Schedule a free, no-strings-attached demo to discover how Lyftrondata can radically simplify data lake ETL in your organization.
Zendesk is a service-first customer relationship management service platform that offers well-built software to firms to improve their customer relationships. It aims to encourage customer communication between clients and business representatives to drive growth and innovation. Zendesk facilitates customer support for sales and customer growth teams to engage with their customers better.
What are the features of Zendesk ?
Customer feedback: Zendesk enables you to acquire regular customer feedback in real time. This will help you enhance customer satisfaction for your business.
Ticketing system: Managing multiple channels and flexibly achieving business can get easier with Zendesk.
Regular reporting: Keeping a track record and getting regular updates or overviews at regular intervals can be helpful by using the Zendesk service.
Data integration: Zendesk enables easy and smooth integration from any data source to its final destination along with utilizing customer relationship management.
What is the Lyftrondata-Zendesk connector?
The Lyftrondata-Zendesk connector helps to integrate your data on Zendesk with data warehouses and BI tools, so you're able to drive data-driven meaningful insights.
Why choose the Lyftrondata connectors for Zendesk integration with other platforms?
Zendesk integration using the Lyftrondata connector enables full automation with zero coding and instant query performance. The Lyftrondata Zendesk connector automates your data flow without writing a single line of code. It requires no maintenance.
How much time does Zendesk integration take with different platforms?
The whole process, from - Zendesk integration, to loading in the cloud data warehouse, to analyzing Zendesk data in BI tools - takes only a fraction of a minute.
How could Lyftrondata help me to make the best of my Zendesk data
Lyftrondata automatically connects with Zendesk database and files, load them in a cloud data warehouse of your choice and makes the data available in your favorite BI or analytics tool. All transformations are defined in standard SQL, which are pushed down to target data warehouse in their native sql for better performance.
Any specific size of data and BI tools supported in Lyftrondata?
Analyze any data size in more than 35 visualization tools! The agile-data delivery model could processes trillions of rows, tables and delivers unmatched BI performance and limitless scalability for users. Run real-time SQL queries on any data source.Create data sets and share them between teams and analytics tools.
How could I improve the performance of my Marketing campaigns?
Lyftrondata provides a platform that processes real-time data from multiple marketing streams and empowers data-driven owners to examine which campaign is working best and which needs improvement. Integrate and assemble all your data from more than 30 sources including Salesforce, Marketo, Spreadsheets, Google Analytics, LinkedIn, Facebook, and more.
How much time does it take to generate the dashboards in visualization tools?
The whole process right from the integration to producing actionable insights, happens in less than 4 minutes- promising a time optimization by 75%.
How does Lyftrondata promise secured access of my Zendesk data like passwords, bank details, and more?
Lyftrondata enables enterprise-level security with built-in security model and support for standard security frameworks and protocols. Its embedded security system allows data masking, field level restrictions and an architecture that automatically scales up and down.
Could I expect a consolidated dashboard produced from different data points?
Yes, absolutely!
With Lyftrondata modern data pipeline, you could have an access to all your data points , make analysis simple for all stakeholders, and gain a holistic view from your data without any technical limitations.
Do I need to generate Zendesk for integration?
Not at all!
Lyftrondata pre-built connectors automatically convert Json and XML API to normalized structure and provide ready-to-query schemas and full search on data catalog.
What would be the process of data search in Lyftrondata?
Through a governed embeddable data discovery model, users could search, tag, alias, and enrich their data with ease. The powerful agile-based platform enables enterprises to transforms messy and unstructured data to facilitate and enhance its analysis.
How does Lyftrondata integrate logical data warehouse and Data virtualization?
Lyftrondata modern data hub offers logical data warehouse where data is stored once and utilize the memory compute for transformation, loading and standardization.
Data virtualization offers users a single interface — often based on SQL — to access data in multiple places or formats.
Lyftrondata integrates data virtualization, manages the unified data for centralized security, and delivers real-time data for best class performance. Lyftrondata provides a common abstraction over any data source type, shielding users from its complexity and back-end technologies it operates on. It relies on views that allow users to integrate data on the fly.
Which all big data and cloud data warehouse could I use?
Lyftrondata supports all the high performing big data warehouses like Hadoop, Spark, EMR, Azure, HDInsights, Databricks etc., and next-gen cloud data warehouses like Snowflake, Redshift, Google Big Query and Azure SQL DW.
How is the migration governed in Lyftrondata?
Lyftrondata supports Lyft, Shift and Phase migration approach which enables users to rapidly modernize applications, migrate the right workloads, and securely manage their hybrid environment.
How is data prepared and served through Lyftrondata model?
Lyftrondata speeds up the data preparation process so that the focus is less on cleaning the data and more on gaining insights in shortest time possible. Such self-service data preparation system, a collaborative data modeling and instant logical data warehousing allow different live of functions to work together and deliver fast.
Would I have to write manual data pipeline with Lyftrondata?
No, Lyftrondata will help you create Data Pipeline automatically and let you analyze the data instantly with ANSI Sql and BI tools.
Do I have to write custom Rest job to connect with Zendesk?
No, Lyftrondata will help you connect with Zendesk and normalize your API Json output automatically so you can focus on your business and Lyftrondata will take care of the data pipeline.
I am starting a new project with Zendesk as the source, but I am not a expert?
No problem, Lyftrondata will help you with Zendesk data model so you can easily understand your source system and build your new architecture with 75% optimization.
Do we need to create our own star schema and BI dashboard?
Lyftrondata is providing out of the box data warehouse star schema design, and BI dashboard for the users. So, you can just use our express solution to build your new analytics platform in no time.
Does Lyftrondata provides the pre-built pipelines from Zendesk to Stage & Stage to Data warehouse?
Yes, Lyftrondata will provide pre-built pipelines for Stage as well as Data Warehouse.
I am keep on building data stores and data lakes which are resulting in data silos. How can Lyftrondata help me?
Lyftrondata will provide you with automatic data lineage and tag-based search which will populate our data catalog engine. So, anybody like business users, data analysts or engineers can search all their objects with ease.
I have some custom Json, do I need to convert them manually?
No, Lyftrondata allows Json parsing function so, you can directly use simple select syntax and have your json data extracted quickly as shown on this query here.
select JSON_PATH(LineAggregate, '$.[0].id') ,JSON_PATH(LineAggregate,
'$.[0].variant_id'),
LineAggregate from
(select top 1  * from [Shopify_GeniusMinds].[Shopify].[Orders]) as orders
I have my data coming from CSV, S3, Blob. , Could I import the file metadata individually and do I need to write a separate looping process?
Lyftrondata will help you automatically create the schema, will do auto merging, auto sync for your files and auto ingest into your target data warehouse automatically. There's no need of any manual looping process, Lyftrondata will read the files from subdirectories automatically.
My data contain sensitive information, how can I handle it?
No problem, we got you covered. Lyftrondata has inbuilt data encryption mechanism which let you encrypt your sensitive information with ease.
I don't want to give access in all of my data and pipelines to other users, how would Lyftrondata help me?
Lyftrondata has robust column level security which will help you choose the access based on roles and user and only the users you choose will get the access on pipeline, database, table or column.
Do I need to write custom pipeline to handle my incremental data?
No, you are fully covered with Lyftrondata auto sync feature which help you choose delta field, select the frequency and Lyftrondata will take care of the rest.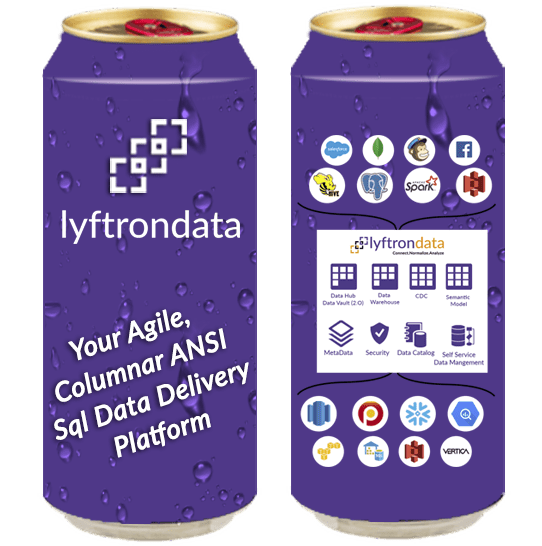 Satisfy your thirst for better data outcomes.
We're here to listen. Tell us about your requirements.
What challenges are you trying to solve?