Smarter and faster business
intelligence like never before
Explore actionable insights from your data and drive a 360-degree view of your business. Lyftrondata collects, transforms, and presents data to help decision-makers drive business growth.
Accelerate your BI performance and transform the way you interact with data
Modern SaaS BI platforms, like Power BI in Azure, enable access to dashboards from any device and location. However, those tools must have access to both cloud and on-premise data. The queries may also work slow when a cloud BI tool reaches data hosted on-premise. Besides, the dependency on IT teams also delays the overall delivery cycle.
Lyftrondata lays the foundation for exceptional data sourcing. The modern data solution could be installed in the cloud and serve as a data layer for a cloud BI tool. Users may connect data, create a data model, or cache the data in the cloud data warehouse. The BI tool receives an extra data management self-service layer offered by Lyftrondata. Lyftrondata connects to data sources and imports metadata. It also provides real-time data just by registering essential data sets in the catalog.
Eliminate the complexity with Lyftrondata's simplicity
Parallel Auto Data Migration Jobs
Faster Results To Insights
Faster Business Decisions
Deliver lightning-fast data insights with powerful BI acceleration platform
Quickens Time-to-Value
Easily combine data from different sources and achieve actionable insights on big data in the cloud at a much faster rate. The whole process, right from the integration to producing actionable insights, happens in less than 4 minutes- promising a time optimization of 75%.
Open Decision Making
Encourage coordinated efforts within your groups by conceding access to your dashboards and reports, thus allowing you to easily work together with all partners. When everybody receives similar information within a fraction of time, it allows a more inclusive and efficient decision-making process.
Shortest Way of Data Preparation
Lyftrondata changes how data is prepared. Data from all data sources is instantly accessible in one place, a virtual data warehouse. Data loading to a target data warehouse is delayed until it is necessary.
Active Integration
With a modern data solution, you have the ability to consolidate all the information in one, incorporated spot. No more duplication issues, no more contrasted synchronization, and everybody now deals with an equivalent, ongoing same set of information.
Magnified Collaboration
Foster cooperation inside your groups by giving your associates access to the dashboards and reports and working together on them. With everyone capable of accessing the same information, everyone is now engaged and can utilize the most up-to-date information.
No More Reporting Bottlenecks
Overcome the challenges of owning various entities to consolidate different data sets for creating reports. Lyftrondata empowers users to create reports easily and quickly.
Embrace data innovation with data monetization
Simply convert your data into a monetization revenue system by enabling your customers, employees, suppliers, providers, and consumers to utilize a secure agile platform for their data transfer. Gone are the days when enterprises shared the data by writing custom API, use FTP process and email for data exchange. Lyftrondata gives any organization the ability to securely share data, and receive shared data, while eliminating the cost and headache of traditional data sharing methods. You can create your own data hub with secure access to live and governed data. You control who provides the data, who can view the data, and who can access the data.
Lyftrondata provides better security and governance of your data to enable enterprises to share with ease. Lyftrondata Sharing Hub acts as an enterprise data security layer where enterprises can control how they want to share their data. Lyftrondata provides an easy and secure way for organizations to become data providers, and therefore, monetize their data to create new revenue streams. In addition, every Lyftrondata customer has access to the Lyftrondata Data Providers, where they can acquire third-party data, combine it with their own data, and gain a level of insight not possible before. Just imagine if all the barriers to sharing and monetizing data disappeared. What new insights and opportunities would emerge that would transform your organization?
Resources for data driven enterprises
START PLANNING YOUR
MODERNIZATION
Want more information about how to solve your biggest data warehousing challenges? Visit our resource center to explore all of our informative and educational ebooks, case studies, white papers, videos and much more.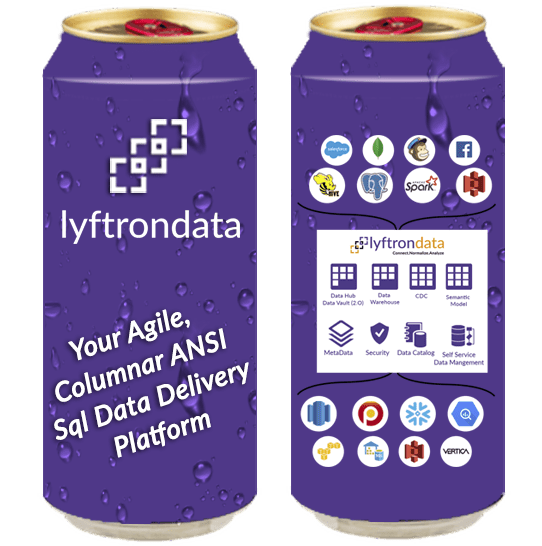 Satisfy your thirst for better data outcomes.
We're here to listen. Tell us about your requirements.
What challenges are you trying to solve?