Build next-gen applications
without any operational burdens
Lyftrondata empowers users to build future-based modern data apps that meet or surpass expectations. Stop wasting huge time and money on low-performance applications – use modern infrastructure that supports BI, IoT, and machine learning.
Turn your applications into your business success
Lyftrondata's technology combines the columnar data pipeline process with modern data warehouse architecture that enables enterprises to build the applications for the future with ease. Gone are the days when enterprises needed to write custom and complex code just to parse the data from various APIs, like Salesforce, Shopify, eBay, Amazon, Google Analytics. Lyftrondata automatically converts API to relational formats and makes it available in the cloud database, accelerating the applications development process by 75%. Skip the worry to code the complex API and simply build data apps using the language of your choice like Python, Node.js, Go, .NET, Java, and more.
Lyftrondata empowers enterprises to build massive-scale applications without operational burdens. Lyftrondata's columnar architecture is designed to power applications with no limitations on performance, concurrency, or scale. Trusted by fast-growing data-driven companies, Lyftrondata handles all the infrastructure complexity, so you can focus on innovating your own application without worrying about reinventing the wheel.
Eliminate the complexity with Lyftrondata's simplicity
Parallel Auto Data Migration Jobs
Faster Results To Insights
Faster Business Decisions
Do more with your applications, collaborate across your business​
Improved Agility
Enable faster development and better collaboration across departments by empowering your developers and engineers with a faster development process. Simply get started by connecting with Lyftrondata zero-code platform.
Zero Latency & Unlimited Scalability
Lyftrondata's warehouse multi-cluster, shared data architecture spins up additional compute clusters to support a near-unlimited number of concurrent users on shared tables without contention for resources.
Monetize Your Time
Lyftrondata empowers developers and engineers to use the API relational models to automatically consume the data without any coding to ensure they remain up-to-date and also to combine it with their existing data to get the deepest insights possible at a much faster pace.
Faster Go-To-Market
Lyftrondata empowers enterprises to build applications faster than ever before. Gone are the days when your developer needs to write custom API connectivity and conversion logic. Eliminate traditional data sharing methods' complexity with Lyftrondata's simplicity.
No Dev-Ops & Infrastructure Burdens
Developing and scaling data applications is complex. Lyftrondata automatically handles provisioning, availability, tuning, data protection, and other operations across multiple clouds for you.
SQL For All Your Data
Simply connect your API, Json, Nosql and traditional database based connectors with Lyftrondata and get started in minutes, not months, and while Lyftrondata handles the conversion into standardized format, you can focus on your business.
Resources for data driven enterprises
START PLANNING YOUR
MODERNIZATION
Want more information about how to solve your biggest data warehousing challenges? Visit our resource center to explore all of our informative and educational ebooks, case studies, white papers, videos and much more.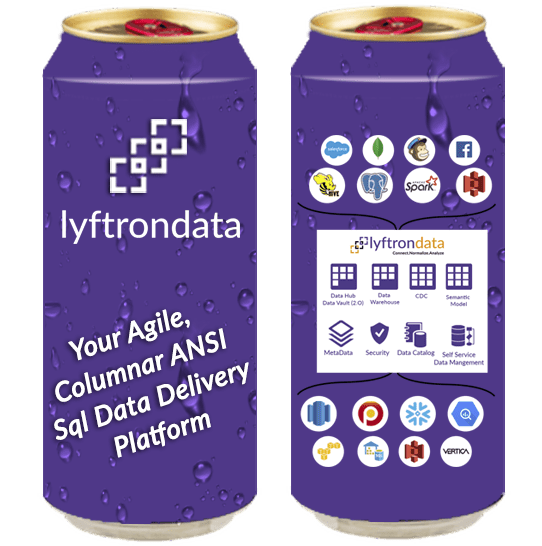 Satisfy your thirst for better data outcomes.
We're here to listen. Tell us about your requirements.
What challenges are you trying to solve?