Seamless Ecommerce Transition to the Cloud with Lyftrondata for
Take data from Ecommerce, load to any data warehouse
and analyze it instantly in easy steps
According to Gartner, data-driven enterprises are making a paradigm shift from cloud-first to the cloud-only data warehouse. Lyftrondata, an agile-based modern data delivery platform, demystifies the challenges of cloud migration and ensures a seamless migration from an Ecommerce platform to the next-gen cloud data warehouse.
Connect

Normalize

Analyze

Transform

Visualize

Share
Integrate your Ecommerce data with Lyftron instantly and blend with 150+ other sources
Data extraction with Lyftrondata is easy. Be up and moving in minutes. Without any help from developers, Lyftrondata enables you to choose your most valuable E-commerce data and pulls it from all your connected data sources in just one click.
I feel more aligned with the agile process as now I can analyze any data without worrying about any technical know how.
Empower your analytics with an out-of-the-box Ecommerce relational data model
Once the data is extracted, you can ingest it to the data warehouse or BI tool of your choice with zero codings required. Lyftrondata connectors automatically convert any source data into normalized structure of ANSI SQL and push down the data pipeline processing as an ELT to the native cloud data warehouse.
I have a better control on the data analysis process as now I can run rapid fast queries against the API's which I never thought possible.
Built for the agile data culture for your E-commerce data
Next, analyze massive volumes of this real-time data in visualization tools and get instant answers to your store performance. Over 100 integrations empower you to use your favorite tools to map data, build and visualize custom reports and more.
SELECT

o

.userid

,

o

.order_id

,

o

.amount

, case when

p

.status

=

"Active"

then 1 Else 0 end as status,

p.

currency

,

pay

.

fee

FROM

[ order ]

o INNER JOIN

[ payouttransactions ]

pay ON

o

.

id

=

pay

.

id

INNER JOIN

[ payouts ]

p

ON

p

.

id

= pay.id
I can easily able to do the architecture and requirement gathering by simply writing ANSI Sql queries for the API sources which use to be the taboos for me.
Load your E-commerce data into your warehouse or lake instantly
Transform your growth metrics by combining your sales and marketing data. Joining tables, renaming metrics and mathematical calculations result in a deeper and more complex data structure then the raw data.
I can easily able to build my data pipeline in few clicks and load billions of records to my warehouse and also able to do cross platform joins on the API sources with ease.
Load your E-commerce data into your warehouse or lake instantly
Visualize and explore your data metrics in beautifully designed dashboards or any BI tool such as Tableau, Looker, Google Data Studio, Excel, Google spreadsheets. Get insights across products, channels, customers, and more.
I can have a better response from the BI reports and can connect with API/Json/XML based sources in just fewer clicks.
Data sharing is data caring
Define, categorize and find all data sets in one place. Share these data sets with other experts through APIs and drive better insights and user experience. This data sharing ability is perfect for companies who want to store their data once, share it with other experts and use it multiple times, now and in the future.
We can easily able to share the data instantly and collaborate with teams with ease.
Why to choose Lyftrondata for your Ecommerce
How could Lyftrondata help me to make the best of my Ecommerce data?
Lyftrondata automatically connects with Ecommerce database and files, loads them in a cloud data warehouse of your choice and makes the data available in your favorite BI or analytics tool. All transformations are defined in standard SQL, which are pushed down to target data warehouse in their native sql for better performance.
Could Lyftrondata help to track the performance of my store?
It is meant for it! Get comprehensive analytics and advanced reports on how your Ecommerce store is doing. Know who your customers are, what they buy, and where they come on your store. Moreover, get automated insights across products, channels, customer lifetime value, and more.
Can I track my customers?
Why not! With Lyftrondata, stay on the top of your meaningful customer data including products, orders, wish lists, reviews, contacts and deliver a personalized Ecommerce experience. Besides, get assurance that your customers' data is always up-to-date
including email ID, phone number and profile so that you spend more time on growing your store than updating your data.
Any specific size of data and BI tools supported in Lyftrondata?
Analyze any data size in more than 35 visualization tools! The agile-data delivery model can process trillions of rows and tables delivers unmatched BI performance and limitless scalability for Ecommerce users. Run real-time SQL queries on any data source. Create data sets and share them between teams and analytics tools.
How could I improve the performance of my Marketing campaigns?
Lyftrondata provides a platform that processes real-time data from multiple marketing streams and empowers Ecommerce owners to examine which campaign is working best and which needs improvement. Integrate and assemble all your data from more than 30 sources including Salesforce, Marketo, Spreadsheets, Google Analytics, LinkedIn, Facebook, and more.
How much time does it take to generate the dashboards in visualization tools?
The whole process right from the integration to producing actionable insights, happens in less than 4 minutes- promising a time optimization by 75%.
How does Lyftrondata promise secured access of my Ecommerce data like passwords, bank details, and more?
Lyftrondata enables enterprise-level security with built-in security model and support for standard security frameworks and protocols. Its embedded security system allows data masking, field level restrictions and an architecture that automatically scales up and down.
Could I expect a consolidated dashboard produced from different data points?
Yes, absolutely! With Lyftrondata modern data pipeline, you could have an access to all your data points, make analysis simple for all stakeholders, and gain a holistic view of your Ecommerce store without any technical limitations.
Do I need to generate API for integration?
Not at all! Lyftrondata prebuilt connectors automatically convert Json, Xml, API to normalized structure and provides ready-to-query schemas and full search on data catalog.
What would be the process of data search in Lyftrondata?
Through a governed embeddable data discovery model, users could search, tag, alias, and enrich their Shopify data with ease. The powerful agile-based platform enables enterprises to transforms messy and unstructured data to facilitate and enhance its
analysis.
How does Lyftrondata integrate logical data warehouse and Data virtualization?
Lyftrondata modern data hub offers logical data warehouse where Shopify data is stored once and utilize the memory compute for transformation, loading and standardization.
Data virtualization offer Ecommerce users a single interface -- often based on SQL -- to access data in multiple places or formats.
Lyftrondata integrates data virtualization, manages the unified Ecommerce data for centralized security, and delivers real-time data for best class performance. Lyftrondata provides a common abstraction over any data source type, shielding users from its complexity and back-end technologies it operates on. It relies on views that allow Shopify users to integrate data on the fly.
Which big data and cloud data warehouses could I use?
Lyftrondata supports all the high performing big data warehouses like Hadoop, Spark, EMR, Azure, HDInsights, Databricks, etc, and next-gen cloud data warehouses like Snowflake, Redshift, Google Big Query and Azure SQL DW.
How is the migration governed in Lyftrondata?
Lyftrondata supports Lyft, Shift and Phase migration approach which enables users to rapidly modernize applications, migrate the right workloads, and securely manage their hybrid environment.
How is data prepared and served through Lyftrondata model?
Lyftrondata speeds up the data preparation process so that the focus is less on cleaning the data and more on gaining insights in the shortest time possible. Such a self-service data preparation system, collaborative data modeling, and instant logical data warehousing allow different levels of functions to work together fast.
Would I have to write manual data pipeline with Lyftrondata?
No, Lyftrondata will help you create Data Pipeline automatically and let you analyze the data instantly with ANSI Sql and BI tools.
Do I have to write a custom Rest job to connect with my API?
No, Lyftrondata will help you connect with Shopify and normalize your API Json output automatically so you can focus on your business and Lyftrondata will take care of the data
pipeline.
I am starting a new project with Ecommerce as the source, but I am not a Ecommerce expert?
No problem, Lyftrondata will help you with your Ecommerce data model so you can easily understand your source system, and build your new architecture with 75% optimization
Do we need to create our own star schema and BI dashboard?
Lyftrondata is providing out-of-the-box data warehouse star schema design and BI dashboard for Ecommerce customers. So, you can just use our Ecommerce express solution to build your new analytics platform in no time.
Does Lyftrondata provides the pre-built pipelines from Ecommerce to Stage & Stage to Data warehouse?
Yes, Lyftrondata will provide pre-built pipelines for Stage as well as Data Warehouse.
I keep on building data stores and data lakes which are resulting in data silos. How can Lyftrondata help me?
Lyftrondata will provide you with automatic data lineage and tags-based search which will populate our data catalog engine. So, anyone like business users, data analysts, or engineers can search all their objects with ease.
I have some custom Json, do I need to convert them manually?
No, Lyftrondata allows Json parsing function so, you can directly use simple select syntax and have your json data extracted quickly as shown on this query here.
select JSON_PATH(LineAggregate, '$.[0].id') ,JSON_PATH(LineAggregate,
'$.[0].variant_id'),
LineAggregate from
(select top 1  * from [Shopify_GeniusMinds].[Shopify].[Orders]) as orders
I have my data coming from CSV, S3​ , and​ Blob​. ​ ​Do I need to import the file metadata individually, and do I need to write a separate looping process to pull the files from subdirectories?
Lyftrondata will help you ​to automatically create the schema​. It will do the auto​-​merging, auto-sync for your files, and auto​-​ingest into your target data warehouse. There​ i​s​ ​no need for any manual looping process, Lyftrondata​ will read the files from​ ​subdirectories automatically.
My data contain​s​ sensitive information, how can I handle it?
No problem, we g​o​t you covered. Lyftrondata has an inbuilt data encryption mechanism which​ ​let​s​ you encrypt your sensitive information with ease.
I don't want to give access to my data and pipelines to other users, how would Lyftrondata help me?
Lyftrondata has robust column-level security which will help you choose the access based on roles and user. Only the users you choose will get access to the pipeline, database, table, or column.
I have 2 years of data on my store, will I be able to load that?
Yes. With Lyftrondata, you can sync with all of your historical data, connect and choose your load options.
Do I need to write custom pipeline to handle my incremental data?
No, you are fully covered with Lyftrondata's auto-sync feature which help you choose delta field, select the frequency and Lyftrondata will take care of the rest.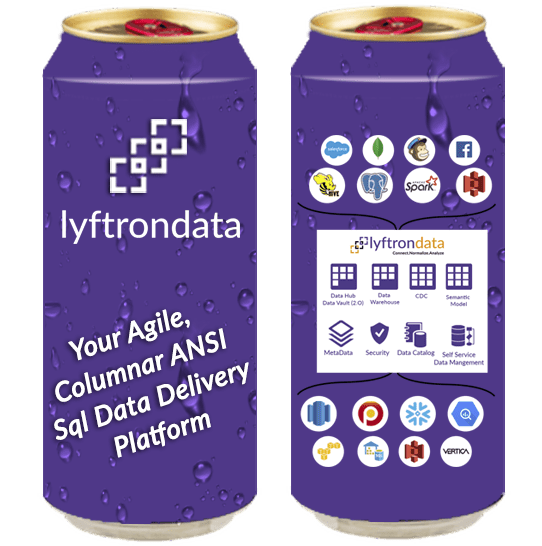 Satisfy your thirst for better data outcomes.
We're here to listen. Tell us about your requirements.
What challenges are you trying to solve?