A robust data catalog
model for a single source of truth
Enterprise-Wide Data Catalog and Data Lineage to empower data-driven enterprises to quickly discover, understand, and manage all their data and keep it up-to-date.
Data Catalog for a strong data foundation
Gartner describes the data catalog as "A data catalog maintains an inventory of data assets through the discovery, description, and organization of datasets. The catalog provides context to enable data analysts, data scientists, data stewards, and other data consumers to find and understand a relevant dataset for the purpose of extracting business value."
Lyftrondata's use of AI and machine learning for metadata collection, semantic inference, and tagging, provides maximum value from automation and minimize manual effort. Lyftrondata robust data catalog provides many other capabilities including support for data curation and collaborative data management, intelligent dataset recommendations, and a variety of data governance features.
Simplify Data Discovery At All Scale
Search, tag, alias, and enrich your data set through Lyftrondata's fully automated data discovery model. The powerful agile-based platform enables enterprises to transform messy and unstructured data to facilitate and enhance their analysis. It also helps users to rapidly find, understand, and deal with every one piece of data from a powerful visual interface. With a few clicks, you can search by object types like database, table, schema, view, column and pipeline.
Achieve a Data Privacy Compliance Framework
Amplify your information governance with a robust data lineage model that follows high-quality controls and compliance mechanisms. Lyftrondata comes with a built-in enterprise data compliance framework complying with all of the necessary rules and tools that your team needs to successfully operationalize your program. It validates and enhances the quality of data and is designed to protect the data from misuse.
Modern Governed Data Lake for effective and efficient use of data
Lyftrondata enables data governance with data catalog, data model, data definition, data lineage, tagging and enterprise data dictionary search. The governance framework of Lyftrondata validates and enhances the quality of data and is designed to protect the data from misuse. These capabilities ensure data is up to date, accessible, and eventually removed at appropriate points in its lifecycle. The governed data lake acts as an anti-corruption layer that allows nested tagging by resource groups, ensuring effective and efficient use of data.
Let's get personal:

See Lyftrondata on your data in a live Demo
Schedule a free, no-strings-attached demo to discover how Lyftrondata can radically simplify data lake ETL in your organization.
From data to analytics, in a matter of seconds
START PLANNING YOUR
MODERNIZATION
Want more information about how to solve your biggest data warehousing challenges? Visit our resource center to explore all of our informative and educational ebooks, case studies, white papers, videos and much more.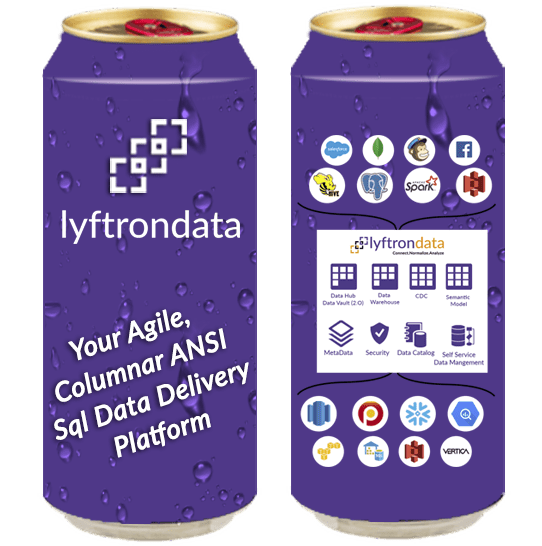 Satisfy your thirst for better data outcomes.
We're here to listen. Tell us about your requirements.
What challenges are you trying to solve?