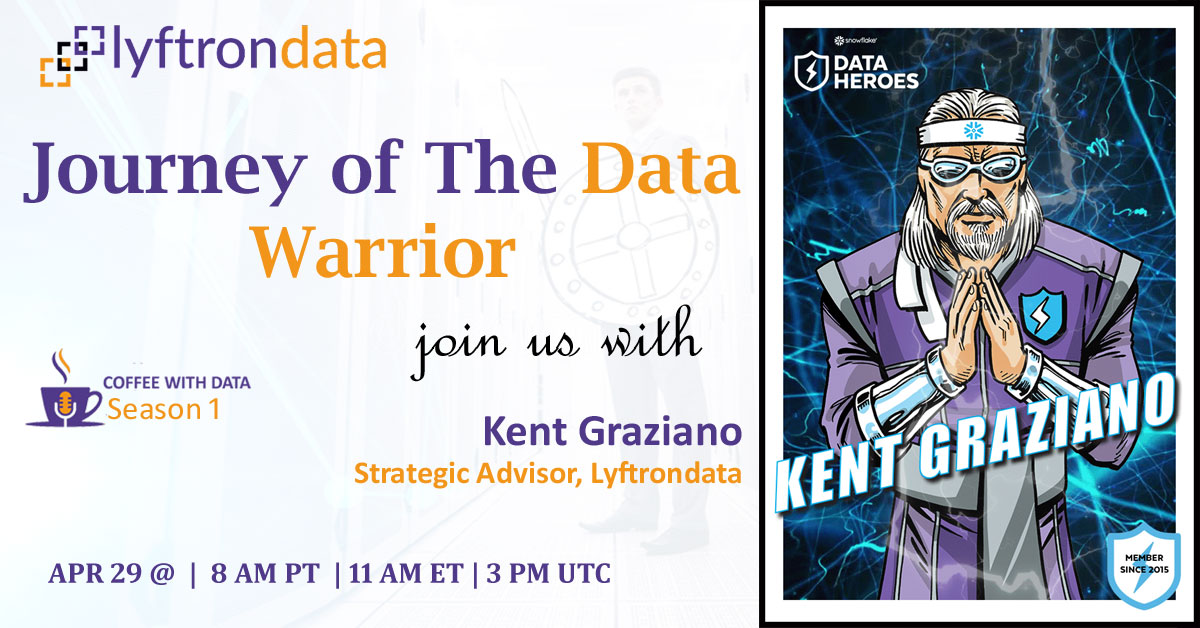 Journey of The Data Warrior
Snowflake data sharing with Lyftrondata
Kent Graziano
Strategic Advisor
San Francisco. US-based Lyftron Data Inc. is pleased to announce the joining of Mr. Kent Graziano to their Advisory Board as a Strategic Advisor. Lyftrondata has practically eliminated the need for manually building data pipelines and has gained high recognition in the industry for delivering a data management platform that combines a modern data pipeline with agility for rapid data preparation. Lyftrondata has built a native bulk loading and streaming integration with Snowflake, enabling companies to take advantage of the unique cloud-built architecture and accelerate market adoption. Lyftrondata is helping the analytics teams in balancing between traditional ETL-heavy data preparation and agility to find, connect and use any data without delays.
Kent, who is popularly called 'The Data Warrior,' is an award-winning industry thought leader, author, and speaker. A semi-retired Snowflake Data Cloud and Data Vault evangelist, he is a Data Vault Master, Knight of the Oaktable Network, Oracle ACE Director (Alumni), and Grandmaster of Tae Kwon Do.
Kent and Lyftrondata both are excited about the collaboration and target sustainable and measurable value creation for Lyftrondata customers. With the amplified abilities acquired from Snowflake, Lyftrondata is already enabling several business enterprises by efficiently connecting them to different sources, avoiding complicated data preparation and agonies of complex ETL processes and legacy platforms. With Lyftrondata, there is no need to write any complex API, rest services, JSON, and XML parsing jobs. Any data can be converted into a relational format to be queried with simple ANSI SQL.
Kent is very impressed with the values and potential of Lyftrondata. He is positive and sees superb possibilities of game-changing innovation and customer solutions in the area of data pipeline with Lytrondata, complemented perfectly by Snowflake. Kent mentions "Lyftrondata is already a solution much ahead of its time that can offer serious competitive advantages and value proposition to the enterprises. If we are able to bring some innovation to life by collaborating, Lyftrondata can make a big market disruption that can equip its customers with significant analytical intelligence. It is quite possible that Lyftrondata's full potential is not yet unleashed; something that we will look forward to doing in the coming weeks together for our customers."
Mr. Javed Syed, the CEO & Co-founder of Lyftrondata Inc. says "Kent joining us as an advisor will make a significant positive impact on our innovations. His inputs coming from his several years of rich experience will help Lyftrondata deliver even higher and sustainable value to the customers in the long run."
We are a group of data engineers who have learned the pain points of traditional data preparation activities and wish to bring agility to data management and avoid delays in analytics projects. Lyftrondata helps analytics teams to find a balance between traditional ETL-heavy data preparation and agility to find, connect and use any data without delays.
Lyftrondata eliminates traditional ETL/ELT bottlenecks with an automatic data pipeline and makes data instantly accessible to BI users with modern cloud compute of Spark & Snowflake. Lyftrondata connectors automatically convert any source into the normalized, ready-to-query relational format and provide search capability on your enterprise data catalog.
For more information, connect with us on
LinkedIn
,
Twitter
,
Facebook
, and YouTube, or visit
lyftron.com
Today to explore how Lyftrondata could help with data stack modernization with an agile, automatic columnar ELT pipeline and give you 95% faster performance.